African American Bisque Artist DollGemmaSigned Kaye WiggsLENumberedNIOB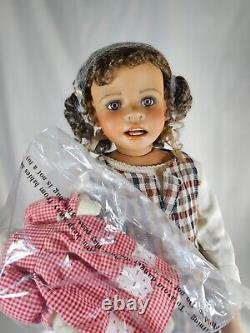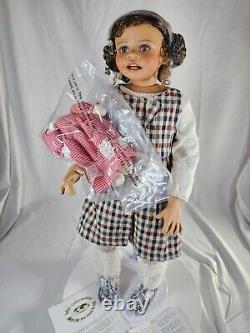 Introducing the Enchanting Limited Edition African American Bisque Doll - Gemma by Kaye Wiggs! Discover the world of timeless beauty and exquisite craftsmanship with Gemma, a captivating, limited edition bisque doll created by the renowned and award-winning doll artist, Kaye Wiggs.
With her unique features and exceptional attention to detail, Gemma is a masterpiece that captures hearts and ignites imagination. Standing gracefully at 24 inches tall, Gemma boasts an enchanting presence that commands attention.
Crafted from the finest bisque, her lower arms, lower legs, and intricately sculpted shoulder plate extending to her waist showcase the meticulous craftsmanship that Kaye Wiggs is celebrated for. Gemma allows you to bring your imaginative playtime scenarios to life with ease. Gemma's sparkling brown eyes radiate with joy, mirroring the laughter and playfulness that define her character. Her open mouth, adorned with pearly teeth, exudes a sense of fun and vivacity that's simply infectious.
She comes equipped with her very own rag dolly, a cherished companion ready to join her on countless adventures. Gemma is a part of an exclusive worldwide firing of only 2500 dolls, and she proudly wears her individual number, 1075, as a testament to her rarity and uniqueness. She arrives nestled within her original box, complete with a dedicated stand, a Certificate of Authenticity (COA), hang tag, and meticulously applied factory wraps to ensure her safe journey to your loving arms. She is signed by the artist and includes her individual number on her neck.
Dressed in a delightful plaid jumper with front buttons, Gemma exudes a timeless charm that's perfect for your collection. Her cotton underclothes, stockings, and adorable shoes complete her ensemble, creating a look that's as endearing as it is fashionable. Her side braids, lovingly adorned with a protective hairnet, add a touch of sweetness to her overall appearance.
Gemma is an embodiment of joy, a collector's dream, and an exquisite work of art that encapsulates the magic of childhood. Whether you're an avid doll collector or someone seeking a unique gift that will be cherished for generations, Gemma promises to bring endless smiles and cherished memories to your life.
Indulge in the world of Kaye Wiggs and secure your limited-edition Gemma today. Immerse yourself in the enchanting world of fine bisque craftsmanship and create a lasting connection with a doll that's more than just an item-it's a treasure to be adored and admired. Don't miss out on this opportunity to own a piece of artistic excellence. Order now and let Gemma's laughter and playfulness fill your heart! The stand shown in the photos is for show only and does not come with the doll but Gemma has her own stand which will come in the box.
This doll was owned by an antique doll collector/investor and not displayed or taken from the box except for the photographs and video in this listing. This doll was stored in a climate-controlled environment without exposure to pets or the elements. All factory applied wrappings are intact, but some may have been temporarily removed for the photos and videotaping and then replaced.
As is normal for items which have been stored for prolonged periods of time, some shelf wear may exist on the box or paper wrappings, especially at the edges. Any errors or omissions are unintentional and are based on my personal research.
See the Photos and the Video (if available); they are an essential part of the description. Favorite our Shop as we roll out more Antique and Artist Signed and Artist Produced Original Limited-Edition Dolls in porcelain, latex and celluloid over the following weeks including other reproduction Brus and Jumeaus, Patricia Bjonness-Jacobsen, Heidi Plusczok, Thelma Resch, Kaye Wiggs, Karen McDonald, and Janis Berard among other Doll Artists. Thank you for stopping by our small business in the Mid-West and Visit Our Store for More Antique and Vintage Finds! This is for your and our safety.
If there is any damage during transit, keep the packing/packages, take photos i. Package, item damage and immediately contact me and the carrier i. All packages are actively tracked to assure they arrive within the timeline we have agreed upon as part of each listing.
Large Vintage or Antique Dolls; Large Figurines so be patient and we? Please note that much of our inventory comes from auctions, estate sales, and the odd flea market. We are not experts in all things antique or vintage, and, sad to say, we don't know the history of most of the items we sell. Please read carefully, look over every photo, ask questions and request more photos to satisfy yourself that you are purchasing a product you can be proud of and thoroughly enjoy. Thanks for choosing to shop with us!
We hope you love our stuff as much as we do. Share the love on social media.

---